---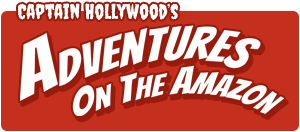 ---
The tangle of the internet jungle is no match for the mighty Captain Hollywood! Navigate the roaring waters of Amazon with the goodly Captain at the helm in search of new movie treasures, TV collectibles, enchanted figurines, rare toys, Hollywood Horrors, and the perpetually unexpected.
---
---
---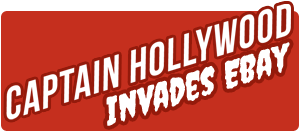 ---
Join Captain Hollywood at his (almost famous) Curiosity Shop on Ebay! See the wonders of our fair planet that await you! Even as the evil ones would try to devastate the Sacred Orb of eBay, Captain Hollywood invades the site and shall carry us through with excellence, vigor, and the purest of hearts! You may well find that which you seek!
---
---
---
---
Do you dare enter the domain of Captain Weird? Strange things lie within. . . unsettling things. . . hilarious things. . . . disturbing things. Perhaps it would be best if you moved along your way. . . . but no. . . no. . . your curiosity must be appeased. Why not just one look? Just a tiny peek behind the curtain? What could possibly go wrong?
---
---
---
Welcome To Captain Hollywoods Curiosity Shops!!!...
At my shops I welcome all manner of collector & curiosity seeker. I've been prowling the sets and the backlots of Hollywood for years, and I've got a couple of nearly famous friends in the flicks that keep me in movie SWAG. . . . very often stuff straight from the studios that I pass onto my customers. And regardless of whether this is your first visit or your thousandth, you'll find amazing things, crazy curiosities, obtuse oddities, obnoxious obscura, and warm & fuzzy memories everywhere you look at Captain Hollywood's Curiosity Shops.
What you'll find above are 3 shops. Each shop is unique and each offers a different experience. Take a moment to explore them all. You'll find things like: rare movie film cells from flicks old and new, the Universal Monsters in all their glory, action figures from classic Golden Age TV shows and recent blockbusters, UFOs and paranormal collectibles, TV & movie models, rare autographs, movie props and prop replicas, great comics, toys, games, magic, morphing movie mugs, and mega-movie stars. You'll enjoy a sensational blast from the past and maybe even take a walk on the wild side! And never mind that crazy coot behind the curtain mumbling to himself! It's only ME, your host. . . . Captain Hollywood!
---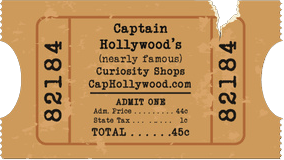 Laine Scheliga Presents:
They Call Me Nooner!
Fight the blasting heat of the unforgiving Texas sun!  Hear the scream of the ricochet!  Feel the searing burn of white hot lead as it tears through flesh and bone!
They Call Me Nooner!   An outrageous and unforgettable Spaghetti Western that carries on the tradition of cowboy nickel books, transporting readers to explosive new thrills and adventure!
Journey through hellfire with Dade Nooner, his band of misfits, and a beautiful woman in a search for lost Indian treasure—it's a crazed trial by fire tale,  gone completely off the rails!  Don't miss the sensational new novel, unlike any other!  They Call Me Nooner!
Get yours NOW on Amazon and here, on CapHollywood.com!