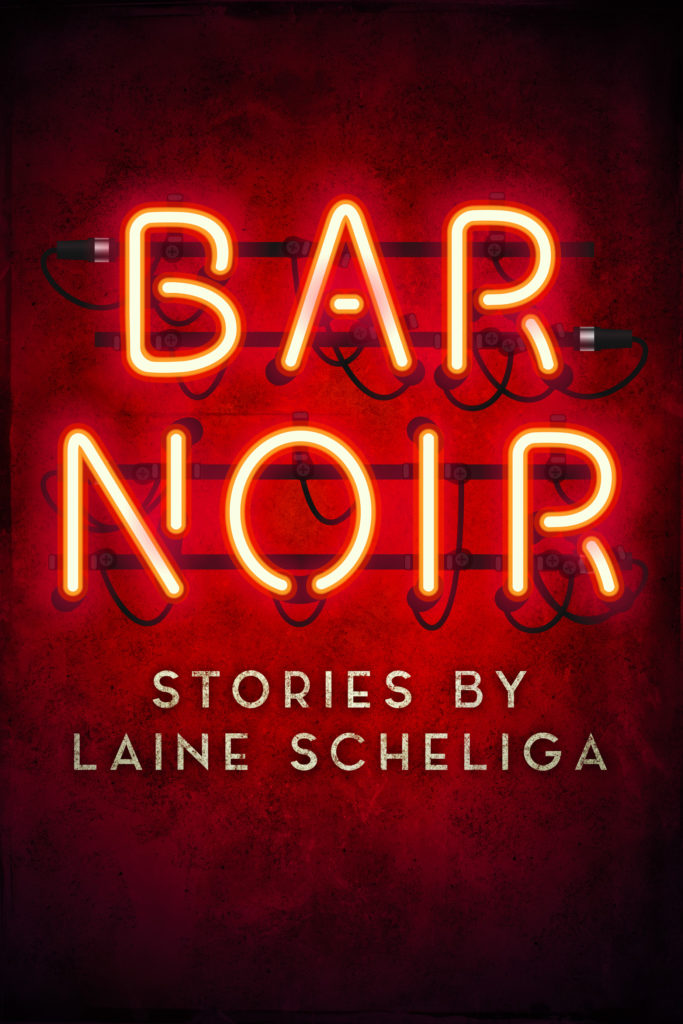 Larry's
By Laine Scheliga
There's nothing like the first one of the day. I'm at Larry's Ten Spot on a hot Sunday but it's dark and cool inside Larry's. No windows, just glowing tubes of beer sign neon, the cigarette machine, the juke, the shadow boxes. I like it in Larry's. Always have. I take the stool at the end of the bar. My stool. I can keep an eye on the whole place and see who comes in and who goes out and who congregates and nobody can sit to my left and if I have to talk to anybody I'll only have to talk to whoever ends up sitting on the stool to my right. No customers now. Just me and barman Larry. I shimmy into my corner stool and press against the wall. The wall is supportive and reassuring and cool. My body aches; I hurt bad everywhere.
Larry flips a cartooned cocktail napkin at me and it spins then comes to rest. I light a Kool and order but Larry already has my drink ready to go. He places it on the napkin gentle, like something sacred. The drink looks good; a cool, fat, swizzled highball in a bucket packed with ice and the glass is already sweating. I thumb some bills from a thick wad and lay them flat out like a fan on the bar. I lift the glass to Larry and then to my mouth and can smell the fat twist that floats on it. 104 outside. I take the big draw. It's so goddam fine, that big draw; satisfying, warming. Nothing like that first draw. Nothing on earth like that first big greedy draw of the day. Gives you sweet momentary hope that something good might happen. After that you're chasing it and of course you never catch it again until the next day. If you get a next day.
The time goes by. Cigarettes disappear from the box. The drinks come and go. Time distorts. Customers come and go. Me, I stick around. Dinner is pretzel mix in a wooden bowl. The liquor guys call them thirst enhancers. I call them pretzels. Pretty soon I'm jabbering with some doll that's turned up beside me. I'm bugging her I guess. I'm no pretty boy I know. I'm pretty goddam beat up and rumpled and half in the bag not exactly first prize right now. But I'm funny and upbeat in that way you're funny and upbeat when you just don't give a damn anymore. Maybe she figures I'm good for something. I buy her another drink. I'm good for that. Her name is Ellen. I buy her another. I'm a regular riot. She's drinking vodka tonics with an olive. It's a good summer drink I guess. She tells me she works for some attorney in San Gabriel. Says she's had enough for one day. Paralegal. I've had about seven or eight or nine by now. She's got nice legs and things are looking up. I'm feeling pretty goddam good by now. There's a jukebox. We move to it, I tell her I have a dime, what's her tune? I drop and punch. The tune comes up. We sing together. She looks down at her shoes. She seems nervous. I reach over and touch her hair. She lifts her eyes. I kiss her and she lets me. She hooks my arm and we move toward the door and she delivers me to Chester.
Chester's standing there waiting. Chester weighs in at about 400 and he pants like a bulldog, but I didn't see or hear him come in. He's sweating in a white dress shirt rolled up at the sleeves. Sweat in big dark circles around his armpits. He's wearing a hand-painted tie with a tiger on it loose at the neck. No jacket.
"What's this?" I say.
"You know," he says.
"Later," I say.
"Now," he says.
I let Ellen go. She nods to Chester and gets the hell out of there.
"I'm not particularly good for it right now," I tell Chester.
"Then we got a problem," Chester says.
"No we don't," I say. "I'm good for it later."
I glance toward the bar. Larry is gone.
"Easy," Chester says. He pulls his piece and nonchalantly shoots me four times. I stand there motionless and astonished with a stupid look on my face like a dumbass. Chester turns and walks out and I'm standing there bleeding out all over the floor.
The outdoor light explodes over me, blinding me in white hot benediction. Then the padded door moves silently closed and it falls dark and cool again in Larry's.