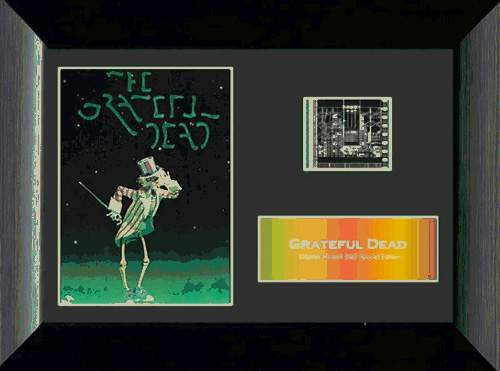 Grateful Dead (S2) Minicell Film Cell
Grateful Dead Minicell Film Cell Display!
Product Description
This is a sensational film cell display featuring an actual 35mm film cell taken from films featuring the Grateful Dead! This fully licensed film cell display is handy and compact, measuring 7 1/2″ x 5″, and is great for upright display with easel stand or hanging on any wall. Each film cell is hand-selected featuring a variety of characters in memorable musical moments, so your cell may not match the one in the photo, but each is pivotal and some unique to their owners. Film cell is mounted so that light can shine through it, and comes with a certification sticker on the obverse & care instructions. Minicell displays come to you in handy clear & protective clamshell cases and are made in the USA!
Additional Information
| | |
| --- | --- |
| external_link | http://www.amazon.com/Grateful-Dead-Minicell-Film-Cell/dp/B002EX0V8C/ref=aag_m_pw_dp?ie=UTF8&m=A3OKE4U8299CAN |